Covid affected us all. The Customer Resource Center (CRC) of GA Power in Atlanta GA, where our commercial scale dryer test stand was located, was completely shut down without any possible access.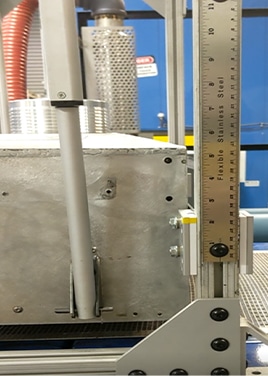 In July 2020, guided by our several discussions with senior personnel of GA Power, AL Power and their parent company, Southern Company Services, our equipment was transferred to the Technology Application Center (TAC) at Alabama Power, sister company of GA Power, located in Calera, AL, 30 minute of drive from Birmingham, AL.
Site personnel successfully reinstalled our equipment and together we put it back into operation (Senior Manager Scott E Bishop and his team). With gracious help from the TAC personnel, we have returned to the testing activities and have tested a variety of new applications – from bamboo-based products to carpets, tiles and to various food applications. In other words, we became fully operational in August of 2020. And now, our demo unit got an excellent upgrade.
With a great help of our amazing friends at the Technology Application Center (TAC) of Alabama Power Company – Mark Rawls, Nick Pournaras, Daniel H. Johnson and Scott E. Bishop our commercial scale demo system got a wonderful upgrade!
The height of the Spectra HE Ultra ultrasonic dryer above the conveyor belt can be automatically adjusted. This allows optimization of dryer height, adaptation to different product lines and ability to dry 3D products, (e. g. paper food service items).
New changeover and calibration system allows us to change the set up and testing of a variety of products — from a thin film or paper to a wood board, a carpet, a vinyl-based product, or even a food product (after conducting appropriate cleaning, of course) in a matter of seconds! Thank you all for making it happen!